I had the girls over for dinner, but being the only vegetarian in the party made me worry that making something simple like pasta or ratatouille would be a bit of a disappointment, so I wanted to showcase a more interesting vegetarian dish.
For starters, we had delicious green olives and sun-dried courgettes (both from Sainsbury's):
(these are deliciously sweet but laden with oil, watch out!)
The main course was puy lentil stuffed aubergine, a recipe I developed from two separate Yotam Ottolenghi recipes from his 'Plenty' cookbook (
his were a bit complicated
, and
a bit wasteful with veg
).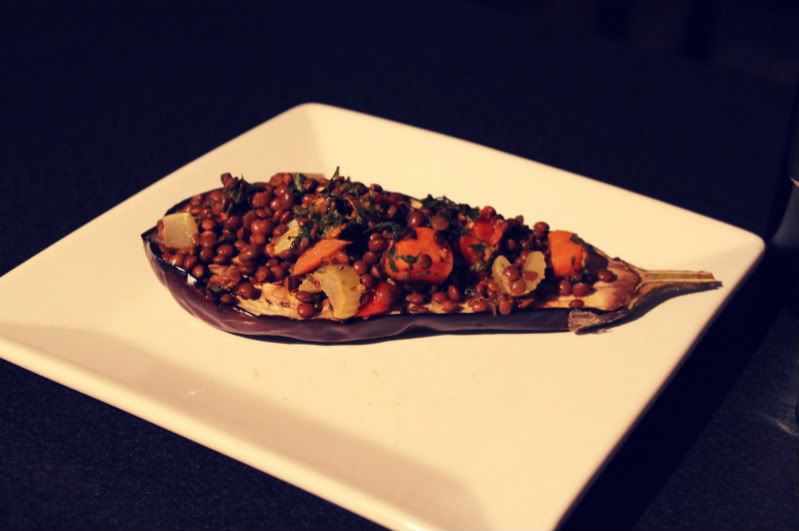 Serves 4 (gluten and dairy free)
Aubergines
:
2 medium/large aubergines (depending on whether it's a starter or main)
Olive oil
8 sprigs of fresh thyme
Salt & pepper
Stuffing
:
200g Puy lentils, rinsed
3 small carrots, peeled (or leave skin on if organic)
2 celery sticks
12 cherry tomatoes, halved
1 bay leaf
2 sprigs of thyme
1tbsp red wine vinegar
1tbsp chopped coriander
1tbsp chopped parsley
1. Heat the Oven to 200
°C/Gas 6. Slice the aubergines in half lengthways, leaving the green stalk for decoration. Using a small knife, make 2 or 3 parallel incisions down the cut side of the aubergine halves, being careful not to cut through the skin on the other side. Then turn the knife 45
° and repeat to get a diamond-shape pattern.
2. Line a baking tray with baking paper. Place the 4 aubergine halves cut side up, then spray or brush the aubergines with olive oil several times so that the flesh has absorbed lots of oil. Place the thyme sprigs just on top of the vertical incisions (so the flavour will diffuse through the flesh) and as much salt and pepper as you like. Roast for 40 minutes or until they look soft and browned (you may want to top up the oil half way through baking).
3. With the aubergines taken care of, you can start work on the stuffing. Place the lentils in a sauce pan, with the bay leaf and sprigs of thyme, bring to the boil, then simmer for 25 minutes. Yotam says to skim any surface froth away, but I never got any.
4. Cut the carrot and celery into 1cm dice, mix with the tomatoes, lash in some olive oil to coat everything lightly and a few pinches of salt. Spread out over a baking tray and cook on the shelf above the aubergines for about 20 minutes (it helps to time this with the second half of the aubergine bake time).
5. Back to the Puy lentils - when cooked, remove and drain in a sieve. Remove the bay leaf and thyme sprigs (don't worry if leaves have broken off), transfer back to the saucepan, spray in a bit more olive oil and the vinegar and lots of salt and pepper. Pop the lid on the pan to keep it warm and wait for everything else to finish cooking (with a bit of practice, we could probably time this perfectly).
6. Add the cooked vegetables to the lentils in the saucepan, with the chopped herbs and taste, add seasoning if required. Place the cooked aubergines onto plates, then spoon the lentil mix on top and into the nooks and crannies created by the incisions - these will have expanded during baking (don't rush, the lentils like to roll off everywhere if you're not careful). Serve with a great big smile on your face because it looks (and tastes) awesome.
If you like, Yotam suggests putting a dollo

p of c
rème fraîche or yoghurt on top, but I decided not to, to keep the recipe dairy-free. I served mine with a central bowl of broccoli, I reckon you could probably serve cauliflower or cabbage and the tastes would still compliment.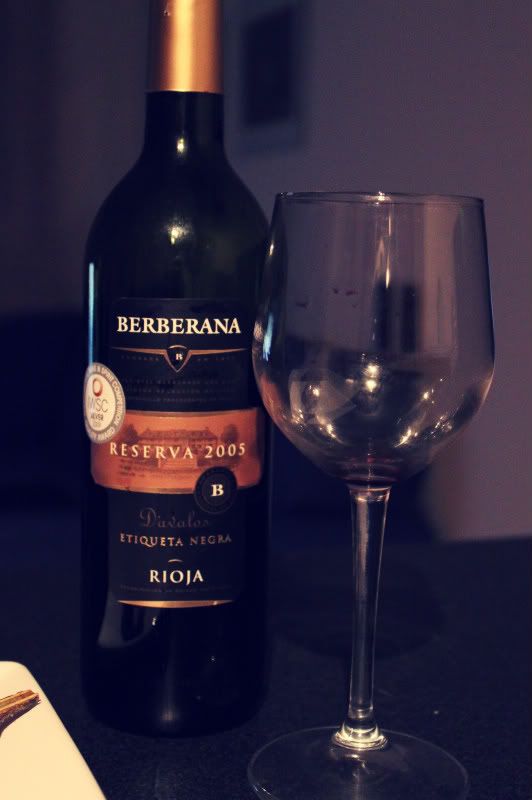 I had been given this lovely wine at Christmas, but saved it for a nice occasion. It was terrific, very soft and plummy, and my boyfriends barcode scanner app tells me you can get it at some supermarkets for only £10. It is very, very much worth trying.
For desert, I gave up being dairy-free and made
that same ginger ice-cream I made at Christmas
, which I served with slices of mango. I know it's from a very different cuisine, but we all thought it went really well anyway (food snobs probably hate me though).
On top of all that, my lovely friends brought me some lovely Spring tulips:

and when I had been picking up my ingredients earlier on, I had spotted these bargain hyacinths for £2.99 which will pop out something beautiful in a few weeks, just in time for the end of my degree (as a wee present to myself):
C x