Lands End is having a
massively reduced sale on their Canvas collection
. I managed to control the spending (for once!) and only spent £30. Here's my haul (apologies for the rubbish camera phone pictures):
Lightweight cotton funnelneck in Grey Heather (£8). I got an XS (UK8) and it's a good fit, especially around the shoulders, but spacious enough at the waist for after chocolate cake.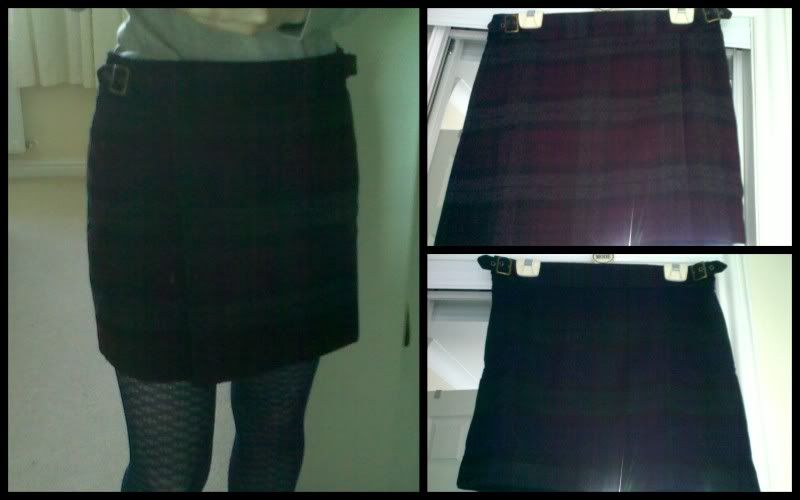 Plaid wool skirts in Aubergine plaid and Blackwatch plaid (£6 each). I worried myself by getting them in a US6 (UK10), thinking they might be a bit neat. But as it turned out, they were pretty loose (sitting lower on the waist than the model's), I might have even been able to go down to a US4/UK8 (but better to leave room for a Winter tummy, which is when one is likely to need a wool skirt!).
And an obligatory cardigan:
Cotton cardigan in Pale Sky (£10, but has since gone back up to £29) - it's much more icy blue than pastel, as their picture might suggest. I got this in an XS (UK8) and it's snug, but luckily not tight (the benefits of small shoulders), however, I'd suggest if your shoulders are more normal that you go up a size.
There's more nice things that I unfortunately didn't have the pennies for:
Flannel, suede or leather ballet flats (£29), cotton tartan shirtdress (£24), cotton mix Argyle cardigan (£19).
And lots of nice menswear too:
Cotton mix vintage varsity cardigan (£19) [because men should wear cardigans too!], cotton Oxford shirt (£10), leather Chelsea boots (£49).
See the full sale:
www.landsend.co.uk
C x
PS - Get free delivery before midnight tonight, quote FD1404.