Y'all know I heart vintage. But you also know that I am a stingy son of a gun, so I'm not a habitual vintage shopper. I still thought I would check out 'Judy's Affordable Vintage Fair' when it hit Edinburgh yesterday, and honestly, it was heavenly. No ripped old tatty Laura Ashley granny dresses in size 18 like the vintage rails in some charity shops seem to be filled with: instead rows of neat sport blazers, thick knit Arran jumpers and regularly sized silk blouses and leather shorts. The jewelry stalls were neatly laid out, no need to spend ages untangling chains and prices went from dirt cheap to moderate but sensible for
real
vintage jewelry. I was surprised at how much menswear there was, and indeed how many men came along, but what surprised me mosst was how little kitsch there was - I always think of vintage fairs as being filled with Dita Von Teese clones in Vivien of Holloway bombshell dresses with perfectly permed roll fringes, but in fact the fair was full of average people just looking to get their hands on something no one else has.
Wanna see what I got?
Lee Cooper t-shirt (for the gentleman), £5.
Ralph Lauren cotton shirt-cum-nightshirt, £5.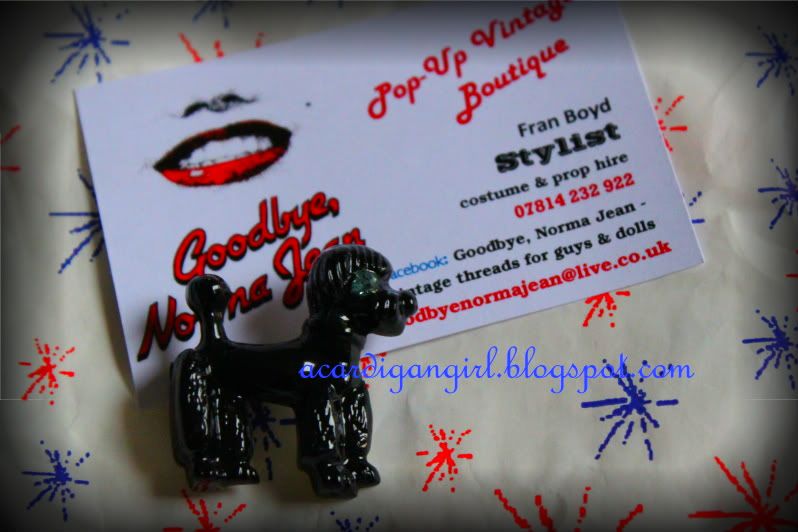 Poodle plastic brooch, £2, Goodbye Norma Jean.
I really don't have anymore room in my wardrobe for clothes so I was very strict with myself, tempted as I was to splurge on a cute 70s red batwing dress ("But when will I realistically wear it?").
So the next time the fair is in town, I will pop back along, perhaps armed with a little more idea of what I actually want to find. Have a gander at the website to find out when the fair is coming to your city:
theaffordablevintagefair.blogspot.com
C x