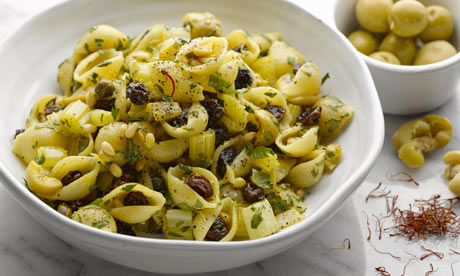 LOVE raisins in savoury dishes. Adapted from Yotam Ottolenghi's Guardian column, The New Vegetarian, to suit a smaller-budget lifestyle*.
Serves 4 (can be served hot or cold)
4 stalks celery
2 tbsp olive oil
30g pine nuts
40g capers with 2 tbsp of their brine
40g pitted green olives, diced to ~1cm
* 1 good pinch saffron Small pinch of turmeric and oregano
1½ tsp white-wine vinegar
80g raisins, soaked in water (1h)
250g conchiglie pasta
30g chopped parsley
Grated zest of 1 lemon
1 garlic clove, crushed
Salt and freshly ground black pepper
Pecorino(V) or parmesan (which is not vegetarian), optional.
1. Cut any leaves off the celery (but keep aside) and cut the stalks into 1cm dice. Heat the olive oil in a large pan and add the diced celery and pine nuts. Fry over a high heat until the nuts start to brown, stirring all the while.
2. Remove the pan from the heat. Stir in the capers and their brine, the olives, turmeric and oregano, the vinegar and the drained raisins. Set aside.
3. Cook the pasta, drain into a colander and shake well. Tip the pasta into the pan, place over medium high heat to quickly heat through. Keep stirring, then add the parsley, lemon zest, garlic and lots of black pepper. Taste and only add salt if needed.
4. Transfer to serving plates or bowls, scatter the reserved celery leaves on top and if you want, finish with a little cheese (but not much).
Really nice sweet and sour dish, that takes 25 minutes to make and you can toss in anything else you like, perhaps fennel or red onion instead of celery, or anchovies if you're not veggie. The original recipe called for more raisins but I found 100g was a little too much (I reduced to 80g). Perhaps having saffron would counteract this.
C x