First of all, Oscar predictions: how did I fare?
Picture

:
The Social Network
The King's Speech:
I knew it!!! Next year, I'm ignoring the bookies.
Actor in a Leading Role : Colin Firth
Actor in a Supporting Role : Geoffrey Rush. Christian Bale: boo. I should probably watch the movie though.


Actress in a Leading Role

: Natalie Portman
Actress in a Supporting Role: Melissa Leo
Animated Feature Film: Toy Story 3
Cinematography: Wally Pfister (Inception)
Directing: David Fincher (The Social Network) Tom Hooper (The King's Speech): Surprising
Documentary Feature: Exit Through The Gift Shop Inside Job (...really?)


Foreign Language Film

: Biutiful Civilisation
Music (Original Score): A.R.Rahman (127 Hours) Trent Reznor, Atticus Ross (The Social Network)
Music (Original Song): Randy Newman - We Belong Together (Toy Story 3): YES! This was the only one where I went completely against the general opinion.
Visual Effects: Inception
Writing (Adapted Screenplay): Aaron Sorkin (The Social Network)
Writing (Original Screenplay) : David Seidler (The King's Speech)
9/15 - same as last year. I wish I'd stuck with my gut on 'The King's Speech' winning best picture.
But now the important bit - the dresses!
I LOVED the red-heads in navy.
Someone let down the tulle team - Halle Berry. When I saw the first photo, I thought we were off to a positive start. Then I saw the rest of her dress: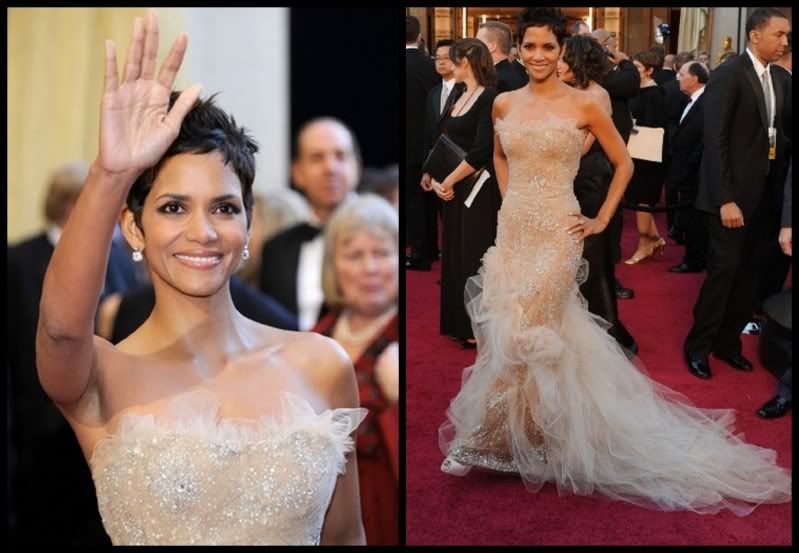 It's like she looked in the mirror and decided it wasn't zinging enough (compared to her usual get-up), so she popped down the road to Remnant Kings, grabbed a roll of tulle and stapled it on. Then stuffed the gaping chest ("No, I stuff...outside...the bra" - points if you can name the Friends episode) and thought "That's a bit more exciting".
But some people did effectively deploy the tulle.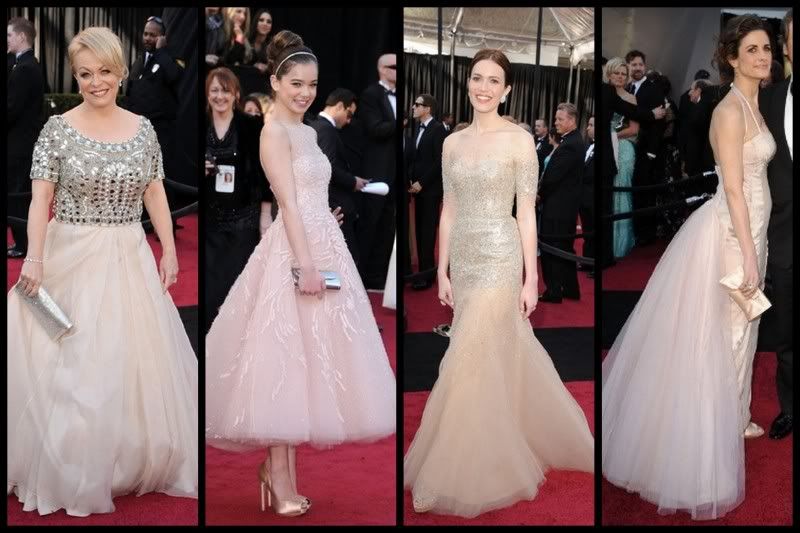 That's a lot of off-white.
I thought the two on the left - Jackie Weaver and Haliee Steinfeld, looked stunning. Both are wearing age-appropriate gowns (63 and 14, respectively) in very flattering shapes. Mandy Moore used her gown to clean the dishes prior to going out (re-do in sky blue?), and Mrs. Colin Firth had a very pretty dress to start with, but followed Halle's lead and stapled on an extra tail. Maybe she was hiding V.P.L. Nevertheless, I think she looked incredibly pretty and I bet she's thinking "Who cares? I get to go home with this tonight:
"
The fashion blogs are full of bitchiness about the awards, so I feel I ought to be positive about a few:
Mila Kunis wore an icy purple lace gown, which I think is my favourite colour of them all: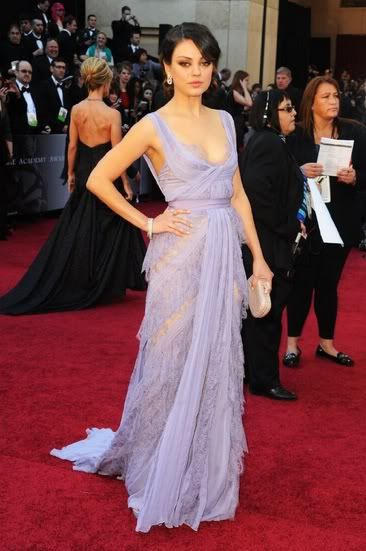 Cate Blanchett was the only non-conformist, and her dress would be my favourite if I hadn't read on one of the afore-mentioned bitchy blogs that her chest looks like a verruca, and now I can't STOP seeing it: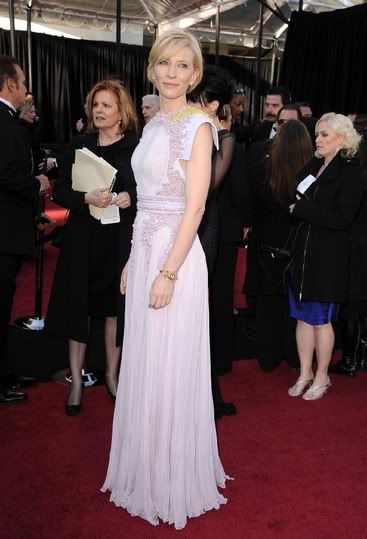 She pulls it off though, like red cowboy boots (more points for naming the sitcom reference). I doubt any-one else could, except maybe Tilda Swinton, who should have been there for being the best ever Scot-turned-Russian-émigré in a semi-dirty Italian film. I Am Love, seriously, go rent it.
I was chatting to my Mum about what's 'fashionable' at the Oscars, and she mentioned a picture she had seen in one of the Sunday magazines of Elizabeth Taylor and Audrey Hepburn together at the 1961 awards (which
unfortunately
I can't find), and we both thought that it was such a shame that actresses are now under this huge pressure to be fashion-forward, whereas back then, women just wore what they felt fabulous in, and it didn't matter if they returned to the same style, time and time again (n.b. Rachel Jennifer Aniston and her black dress collection). Here's Audrey in her timeless Oscars dress:
Perfect. For me, there was only one person who looked as timeless, and I'll admit to not even having heard of her - Mat

thew

McConaughey's partner, Camila Alves:
That
much décolletage might not have been on show in the sixties, but I think we could look back at this dress in twenty years and still yearn for it, oh-so-much. Incidentally, I think it didn't necessarily have to be black to be timeless, this could have been burgundy or that ice-purple from above and still look fab.
So that's it. I promise to stop talking about dresses and timelessness and ice-purple.
C x
(all images via IMDB except the Audrey Hepburn one, which is from the style storm. Thanks!)